The Colorado Carbon Fund is proud to offer Clean Energy License Plates for Colorado drivers. 
By calculating your vehicle's annual emissions and offsetting at least 50% of your calculated total, you will be eligible to acquire one of these unique and decorative plates to showcase your commitment to clean energy in Colorado.
Where to Begin: 
Individual Vehicle Owners
To be eligible for this license plate we ask that you make a minimum donation to the CCF of $25, which will offset 1.25 metric tons of carbon emissions plus support a local Climate and Community Benefit (CCB) project. 
However, you should calculate your vehicle's emissions and then donate to offset a more accurate amount based on your annual emissions.
If you want to offset more than just your driving footrprint, try the EPA's comprehensive personal carbon footprint calculator to see a more comprehensive estimate!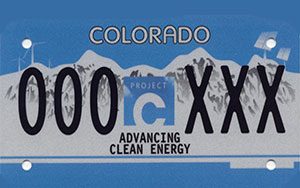 During the donation process, make sure the name you enter matches your credit card and vehicle's title. After your transaction is processed, you will receive an email with a receipt and a PDF attachment of the CCF License Plate Certificate.
Vehicle Registration Office
You must bring both a printed copy of your CCF License Plate Certificate and all the documents which are usually required for registering your vehicle.  Please check with your local county office to be certain you have everything you need to get your license plate. Your county will charge the mandatory $50 fee for any specialty license plate, which is in addition to the donation you make to CCF. More information is available at the Division of Motor Vehicles website.